Description
RARE Unwashed Poppy Seed
100% ORGANIC

|

VIABLE

|

UNTREATED

|

UNWASHED
Papaver Somniferum Seed
VERY Rare |

White Seed

|

Variety

: Japanese "

Ikkanshu

"
The Purity of this Strain is the closest reproduction obtainable today of the True, Ikkanshu Poppy. Created with clinical precision. These WHITE SEEDS are the hardest to find of the Somniferum Variety. They are a bit Sweeter tasting than the Blue/Gray Poppy Seeds because of their Higher Oil Content
THE SEEDS YOU WILL RECEIVE WERE HARVESTED FROM THE SAME PLANTS SHOWN IN OUR PHOTOS & VIDEOS!
(which is what you can expect your end result to look like when planted, given, they are cared for properly)
---
Below is one of our 'Papaver Setigerum' Flowers which is the Strain from which ALL 'Somniferum' Poppies derive from – and is also used in the Development & Research of the 'Ikkanshu' Poppy Genetic Study seen HERE
Papaver Setigerum Poppy Seeds are IN STOCK
---
This 'White-Seeded" Re-produced Japanese Variety has Off-WHITE Colored Petals, with faint VIOLET BLOTCHES towards the CENTER. They Grow to about 3 ft. to over SIX FEET tall, with Oblong Pods. The yield and quality is very nice.
Every precaution known to "Somnifer-dom" has been taken to avoid these Genetics from being Cross-Pollinated. 
---
---
Here is an EMBEDDED (

via iframe

)

photo of Ikkanshu Poppies Growing in Japanese Lab

:
(NOTE: This Image is 

HOSTED in Japan

 by Rakuten™ (hence the domain 
suffix "

.jp/

", which is the Country Code for 

JAPAN

) as shown here:
 https://image.space.rakuten.co.jp/lg01/44/0000547844/28/imge389999ezik3zj.jpeg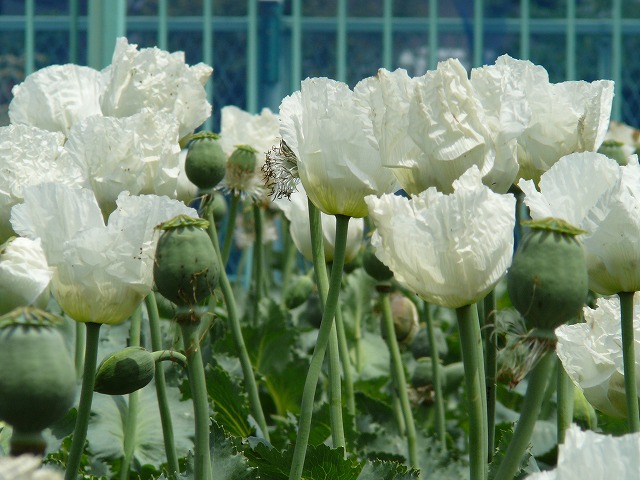 (We have NO ACCESS to their Servers and did NOT Upload this image ourselves.

FEEL FREE to

DO YOUR own RESEARCH

!! 
---
I'm sure you're wondering how or why I would have access to the Most RARE of all Poppy Seed, so allow me to first explain:.
The below statement can ALL be 100% FACT/BACK-CHECKED (please request proof via PM to respect Privacy).
I hereby swear, under penalty of Perjury that the Following is the absolute Truth, to the best of my abilities:
Long story short, my "Step-Father" is a retired Clinician (however, still has Valid licenses to practice) and is still very Active Abroad (Volunteering on Board Committees, etc.).

 His career began in Chicago back in the days when the Mafia (Mob?) pretty much ran it all. I'm not saying he had any involvement with them whatsoever. I suppose if he told me, he'd have to kill me heh? *LOL* I WILL add that he is Italian. So go figure. But eventually, he was working with Several Major Drug Companies (Abbot was one of them, I forgot the others). But he basically worked w/ them ALL. That's part of the job Description (I guess). From my understanding, a 'Clinician' acts as a Liaison between Doctors and Pharmaceutical Companies. I'm still trying to wrap my head around it. So he is the person who actually Obtained, Tested, Recorded, and Retained everything. For more info, please Contact me (owner) in Private.

---

These Seeds are the most precise reproductions of the True Ikkanshu. that exist today (made possible by using the pollen stored from the Original Ikkanshu) This means the first few True Seeds had to be created using the Pollen from a Male Ikkanshu, and then Pollinating a Genetically Modified "Neutral" Female Host Plant. This took several failed attempts in a controlled Sterile environment until a successful batch of Seeds were born. (it seems as though 'Pollen' was the most Viable Option, since all remaining Seed Stock was not Stable enough for testing). This is due to the fact that POLLEN preserves True Genetics better than SEED does (over long periods of time)

Long Story; Short- In the end, I began with just THREE (3) Seeds to work with. That Produced TWO 6′-7′ Plants in 2016. Which I have Continued to grow each Season since, but supply is still scarce.
---
---
The info below is to help you Understand the Difference Between Ikkanshu Hybrids (which are your standard, Blue/Grey Seeds)…
And The Seeds in this Listing, which are a reproduction of the NON-Hybrid (a Rare,
White seed Variety

)
---
---
NOTE:
The Research provided below is merely an effort to prove to those who have been given Conflicting Data in the past, the mere Existence of a "White Ikkanshu Poppy Seed", and is NOT a Study WE Conducted in regards to our Seed:

WE HAVE PROVIDED SOME RESEARCH LINKS FOR YOU IN THIS LISTING.
---
---
IMPORTANT NOTICE:
PLEASE BE SURE TO WASH SEEDS PRIOR TO CONSUMPTION, AS THEIR MAY BE SIGNIFICANT TRACES OF PLANT MATERIAL (pieces of dried seed pod), SINCE MANY OF THESE SEEDS WERE HARVESTED FROM MULTIPLE STEMS, SOME of the NATURAL "Vent Holes" were NOT OPEN all the way. Which prevented the SEED TO POUR OUT NATURALLY, THEREFORE, WE HAD TO BREAK OPEN SOME PODS IN ORDER TO ACCESS THEIR SEED.
This goes for ALL our Poppy seeds, as they are ALL Untreated and Unwashed
The reason we don't wash them is to avoid Re-Germination, clumping, and Molding
---
---
Var.

'Album'

Sub Spec. "Ikkanshu"
Germination Rate: '45%-70%'

The powers of the poppy have been known since at least 3400 B.C., when the Sumerians called it 'Hul Gil', the 'flower of joy.' It has also been variously called the Sacred Anchor Of Life, Milk Of Paradise, the Hand Of God, and Destroyer Of Grief.